Executive Consultant
The Netherlands, with possibilities to travel International
Who is TOP
TOP (Training-Organisation-People) is a consultancy company that has experience in serving organisations with QA/HSE advice and support, training and strategic management since its foundation in 1989. We specialize in temporary and permanent vacancies in the field of QA-QC and HSE-related positions in the maritime and offshore sector, as well as in civil engineering and construction both nationally and internationally. Through our involvement, we achieve the goals that have been set together with our clients.

Job description
As an Executive Consultant you will first be on-boarded to get to know the processes and systems within TOP. You will then carry out consultancy assignments related to sustainability, quality, safety & health and/or the environment within a versatile team.
In this role you support the Independent Consultant or work together with other Executive Consultants in order to familiarize yourself with the content of TOP's services, to be able to carry them out yourself and to be able to manage them independently in the long term. From requesting the scope from the (potential) customer, recording the scope in a quotation, guiding the quotation process to the assignment, carrying out the activities up to and including invoicing and delivery to the customer.
Some of these services are:
Drafting RI&E and developing reports;
Guidance of the Safety Escape Room;
Prepare HSE plan and other HSEQ related project documents;
Support in the implementation of various ISO standards;
Operational support;
Risk management, HAZID / HAZOP;
Performing internal audits;
Implement CO2 performance ladder;
Implement Safety Culture Ladder.
In addition, you keep track of all project administration in the software application Gripp.
During the training period, we will look at where you are now and together we will look at how TOP can guide you in your further development. Through an Annual POP interview we look together at how
you develop on the various TOP services, where your ambitions and your passions lie and we map out your further development together.
The most important elements within TOP in relation to this function are:
Cooperation;
Guidance;
Socratic;
Customer Centricity.
Quality is of paramount importance at TOP and we strive to continuously improve as an organisation by asking for feedback and converting this feedback into concrete points for improvement. Furthermore, we strive to always maintain communication and dialogue both with the customer and with your colleagues. The world around us is constantly changing and through good recording we can continue to monitor changing circumstances.
Important personal competencies:
Communicative skills;
Assertive;
Empathic;
Analytical;
Organized;
Creative;
Go-getter.
As an Executive Consultant you follow training courses to broaden your knowledge and competencies in line with the services of TOP.
Job requirements
HBO level preferably Integral Safety Science, an MBO course MVK or another relevant HBO education;
Knowledge of the maritime sector is an advantage;
Good in English and/or Dutch in word and writing;
In possession of a driving licence B or are willing to obtain it;
Willing to travel (international), where a stay abroad of a few weeks is possible (depending on the project).
What can/may you expect of TOP
A dynamic working environment;
Versatile projects;
Team spirit;
Space and stimulation for personal development;
Bonus system;
27 days of leave and extra days off with public holidays;
Laptop and phone;
Pension scheme;
On-boarding program;
A position with its own responsibilities and objectives;
Contract for a longer period of time, with the prospect of a permanent contract.
Non-Negotiable standards
TOP has three flavors consultants, Executive / Independent / Managing; We work as a team to fulfill these roles, everyone contributes and we do not create layering
The customer needs are central, we are fast and accurate and we communicate clearly, openly and transparently;
TOP is an open community based on independence, resulting in space for self-development;
Every month we have breakfast with all colleagues;
Every month we organise a drink with our TOP Community/permanent network and share our stories;
Three times a year we organise a TOP event in collaboration with our partners and the TOP Community;
Every consultant has a buddy & a mentor-coach; with which we can always communicate;
Billability is a hard condition for growth and developments for which we are all equally responsible. We call it "group billability"
We celebrate a placement/an assignment/a contract together. An assignment is a sign of trust and a desire to work together.
Are you the Executive Consultant we are looking for?
Respond to this vacancy and we will contact you as soon as possible.
Contact Person
Marzena Prost-Polak
HR Manager / Commercial Recruitment Specialist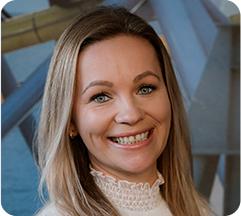 Do you need help improving your organisation?
Get in touch and find out how we can help you with quality, health, safety, sustainability and staffing solutions.
Get in touch