Independent Consultant QA/QC-HSE
The Netherlands, with possibilities to travel International
Do you want to make a lasting impact on the world by working with us to improve sustainability, efficiency and safety within organisations? 
Who is TOP?
TOP is a consultancy firm that has been providing consultancy, support, training and strategic management in the field of QA, QC & HSE for companies in offshore, maritime, water and road construction since 1989. 
In doing so, we work nationally and internationally for organisations such as Vattenfall, DAMEN, Eneco, Boskalis, Fugro, Bouwend Nederland and Valveco .
TOP aims to make a significant contribution to the United Nations' Sustainable Development Goals within 10 years. We will then be sustainable and contributing positively to the world. By that time, by encouraging entrepreneurship, we will work from small self-managing teams in various locations around the world, representing the TOP brand and our standard services.

Job description
As an independent consultant, you will be responsible for implementing, leading and supervising projects at our clients from TOP. 
To this end, you develop, advise and implement in the field of sustainability, quality, health & safety and/or environment at our clients.
During projects that you carry out independently, you can spar with colleagues and share knowledge. For large projects, you will lead and supervise a team of executive consultants, and make use of the broad experience and knowledge available within TOP.
As part of this job, you are jointly responsible for new projects, making use of the extensive network that TOP has built up since 1989. You will talk to (potential) customers about the problems and needs they have, and try to solve these through new projects you come up with.
You switch between operational, process and/or policy TOP services. Meanwhile, you provide QA/QC/HSE expertise to the management and/or employees of the clients and/or projects. You also initiate and coordinate internal and external audits and analyses (including RI&E and workplace inspections).
You have the TOP DNA if you:
Work together – We outsmart others only by working together as a team.

See yourself as a guide – We are the dancers who go onto the dance floor first.

Have a socratic approach – Problems are never on the surface. We have to go deeper.

Are maximally customer-focused – It's all about customers and helping them in the best possible way.
During your onboarding, you will learn about the TOP standards, and we will look at your learning and development goals. 
The TOP standards are your guardrails during project execution, but we encourage you to be creative and adapt to the situation. 
We plot your development together so that your ambitions and passions are in line with the work you do.
As an independent consultant, you will be responsible to the directors of TOP, whereby you will be given the necessary freedom. We work with short lines of responsibility and communication, allowing you to perform at TOP level.
We work from quality and content, rewarding above-average performance from a personal bonus structure.
Job requirements
HBO/WO working and thinking level;

Proven track-record in successfully executing QA/QC/HSE projects;

Proven experience in leading and supervising a team of QA/QC/HSE professionals;

Knowledge of and experience with ISO standards;

Good in Dutch and English in word and writing;

Willing to travel internationally;

You are collegial, communicative and enjoy working with others;

Location irrelevant – as long as you visit TOP once a month to meet the whole team.
What can you expect from TOP
Salary of €5200 – €6800 gross based on knowledge and experience;

Competitive bonus structure based on claimability;

An annual training budget and personal development plan;

27 days off and possibly extra days off with the holidays;

Laptop and phone;

Pension scheme;

Versatile projects;

A fun and informative team;

Ability to work remotely;

International projects for high-profile organisations;

A position with its own responsibilities and objectives;

Long-term contract, with the prospect of a permanent contract.
Where you will work
TOP is an organisation where cooperation and knowledge sharing are key. Together, we tackle the most multifaceted projects, nurturing our team spirit.
As a team and individually, we strive for the highest quality. Everyone is aware that cooperation and collegiality ensure that we achieve the best results for our customers. All colleagues have certifications and a personal training budget to continuously improve themselves.
With a diverse team with different specialisations, and colleagues at home and abroad, we house broad knowledge and together we can handle any project. 
From TOP, we invest in students and graduates every year to keep our view of the world up-to-date. So we have a nice mix of young talent and colleagues with decades of experience. 
One example is a new virtual training programme where we tailor training courses and customers follow them using Virtual-Reality.
The office is located in Rotterdam's most beautiful spot, the Veerhaven. With the Park around the corner, the Euromast in our backyard and the river 'Maas' on our doorstep, this place has everything an inspiring office location needs.
What is the application process like?
Should you be interested in this vacancy, and be invited for an interview, you can expect the following:
The first interview takes place with the HR manager and someone from the management team.

The second interview takes place with a (possible future) colleague and someone from the management team.

If it is convenient, we will invite you to a lunch or team meeting, so you can find out how TOP works and what kind of company you will be working for.

If we are both convinced you are right, you will join TOP.
It is important to us that you and we are convinced that this is the right move. That is why we do our best to introduce you to the organisation before you sign a contract.
Interested?
Are you excited by this vacancy, and would you like to become our new Independent Consultant?
Reply to this vacancy with your CV and motivation and we will contact you as soon as possible.
Do you have any questions? If so, please email Marzena Prost-Polak at m.polak@top-advies.nl. 
Acquisition in response to this vacancy is not appreciated.
Contact Person
Marzena Prost-Polak
HR Manager / Commercial Recruitment Specialist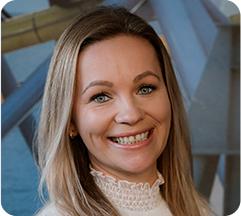 Do you need help improving your organisation?
Get in touch and find out how we can help you with quality, health, safety, sustainability and staffing solutions.
Get in touch